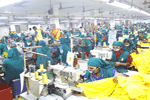 Quality Controler
Gimex Clothing Ltd
খালি পদ: 2
চাকরির বিবরণ:
The selected candidates will be responsible to ensure quality of knit garments products in every steps of production from cutting to packing.
They should be able to find out faults in the garment making process, take immediate corrective actions and should set the quality norms in such a way that rejections of the garments are minimized.
Experience candidates who are working for minimum 03 years as Quality Incharge /Quality Controller in Sewing/Finishing/Cutting Sections in reputed Knit Garments are only encouraged to apply.