Human Resources Policy Manual Section-1 (INTRODUCTION)

 Human Resources Policy Manual 
This manual comprises the official human resources policies and procedures of ________. The specific policies that follow promote the philosophy of _________ with regard to standards of excellence; terms of employment; employee development; and employee services.
This Human Resources Policy Manual is provided as a central reference for all managers, supervisors and employees and applies to all the employees of corporate office and the factories.
_________ is committed to assuring that its employees and applicants for employment have equal employment opportunity, with regard to race, religious or political affiliation, marital status and gender and will afford each employee a workplace free from discrimination or harassment. Based on the principle that _________'s workforce must be of the highest quality, employment decisions will be based on an employee's ability to competently perform the duties of his or her position. It also is expected that each employee devote himself or herself to the job with diligence, loyalty, and effort so as to be a credit to the Group.
It may be necessary to change these policies from time to time to reflect changes in the Government regulations, employment trends, workforce and economic conditions etc. However, any changes in policy will be consistent with the Group's approach to:
Employing talented individuals whose creativity and imagination will support and contribute to achieving the Group's business objectives;
Communicating Group standards and expectations in all aspects of employment including performance;
Valuing diversity, and assure equal employment opportunity and a workplace where relationships are based on mutual respect;
Treating all staff, workers, contractors and customers in a professional, nondiscriminatory manner;
Providing safe, effective working conditions, and;
Providing competitive terms and conditions in our workplace market.
Where the manual conflicts with specific Government regulation or with _________'s Board policy, the Government regulation or Board policy shall prevail.
________________________
__________________
Managing Director
Company Name

Table of Contents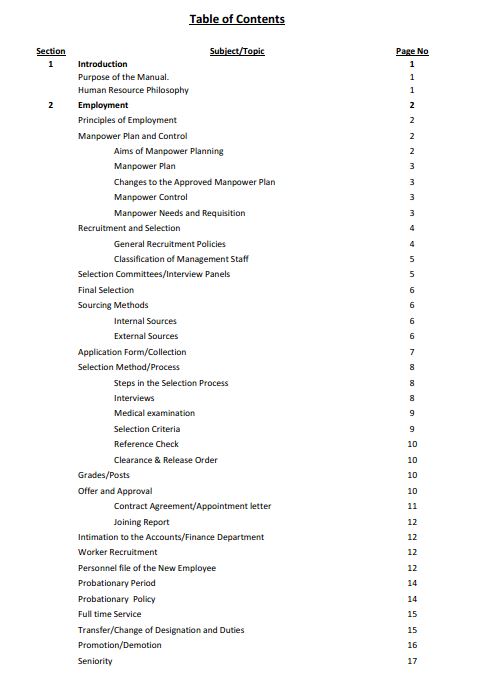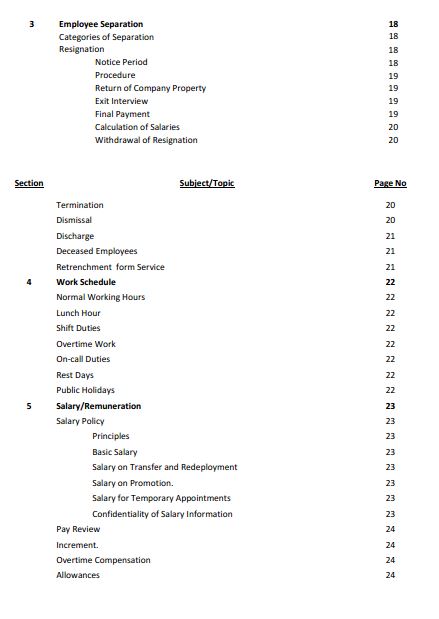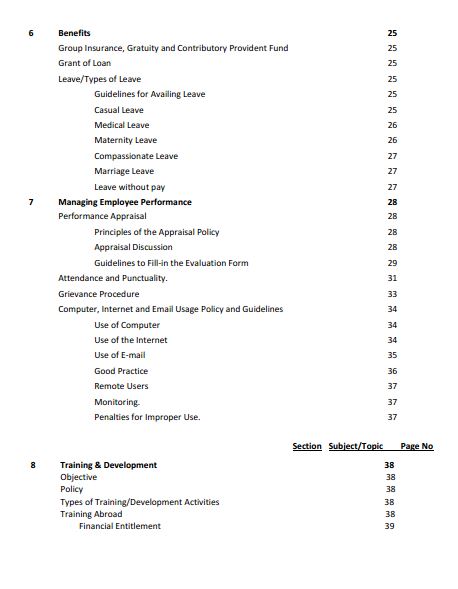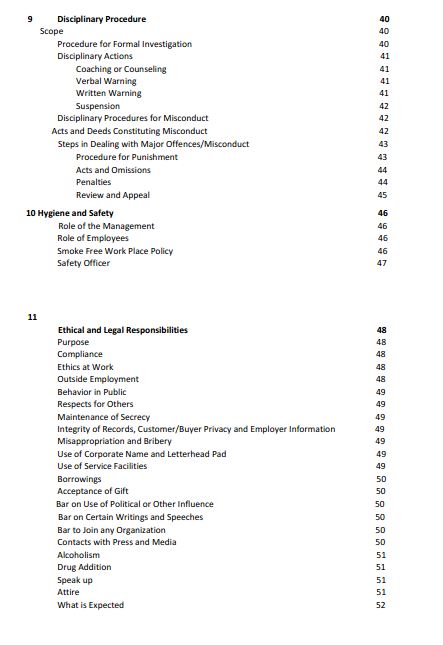 Annexes:
Feedback On New Employee
Confirmation of Employment
Sample Promotion Letter
Sample Letter of Resignation
Loan Application Form
Leave Application Form
Late Attendance/ Early Departure /Absent Amendment Form
Computer User's Agreement
Non‐Disclosure & Service Agreement
Organogram of Admin & HR Department
Manpower Requisition Form
Interview Evaluation Sheet
Interview Technique and Tips for the Interviewer
Joining Report Form
Employee Personal Information
Change in Personal Information
Performance Evaluation Form
Exit Interview Form
Non-Encumbrance/ Clearance Certificate
Confirmation Of Leave Approval
SECTION – 1. INTRODUCTION
1.1 Purpose of the Manual.
This manual summarizes all major human resources policies and procedures that are currently in force in _________ and its subsidiaries. Any terms and conditions of employment not covered in part or in whole in this manual, shall be subject to the provisions of labor Law in force in Bangladesh.
The manual is intended to serve as a reference guide to full‐time employees on the human resources policies and procedures of _________ as well as the rationale and principles of how they should be implemented and enforced. The provisions stipulated in this manual shall be subject to change from time to time at the discretion of _________.
1.2 Human Resource Philosophy.
_________ recognizes the contributions of its employees and treats each individual employee fairly and consistently in all matters, with a uniform application of the following human resources philosophies:
a) Human resources are best allocated to achieve optimum productivity and efficiency.
b) Pay and benefits offered are fair, equitable and competitive.
c) Employees are always encouraged to well‐equip themselves for the present job and future development of _________.
d) Reward is based on merit. High performers are given priority to take up more responsible positions.
e) Two‐way communications between employees and the management are promoted as a means of building mutual understanding and trust.
f) Workplace safety is given top priority to protect human health and enable employees to deliver their best performance.
g) Human rights are supported. Equal opportunities of employment are advocated. Employees' freedom of speech and association are respected as long as they are within the legal boundaries.
1.3 Organogram of Admin & HR Department. Given at Annex A. Click for Next Section